Meenakshi World School's fun Baby Carnival
Meenakshi World School in association with KleverMind, is hosting a platform for children. Kids between the age group of 2-5 yrs can unleash their potential and win exciting prizes!
[caption id="attachment_73" align="aligncenter" width="700"]

Baby Carnival at Meenakshi World School[/caption]
We as parents always want the best for our children. We want them to explore new things to find out what interests them.
Young children have a high capability to grasp information. Hence, early life experiences help a lot to shape the foundation of a child's future. A child's mind is open to learning. They just love to have new interactions. This platform provides a chance for the children to understand the concepts of presentation. They will be able to eliminate any stage fear. It also gives them a chance to mingle with other children.
Fun things to do at the Meenakshi World School Carnival
The "Baby Carnival" is an event which promises a range of Contests, Activities, Fun and Masti for our loved ones. The event will be held in the school premises, Sector 10-A, Gurgaon on 27th August 2016, 10 am onwards.
Register Here!
[caption id="attachment_72" align="aligncenter" width="700"]

Participation categories and fun things to do at the Carnival[/caption]
There's a lot more in the Pitara of the Baby Carnival for the our kids, which includes Magic Show, Puppet Show, Tatto Making, Pottery Making and much more. We all know kids love their yummy treats, so we made sure that they get to enjoy snacks like Popcorn, Candy Floss, Sweet Corn at any point of time. And that's not it, your young bundles of joy also get to take home awards based on categories like, Cutest, Smiley, Friendly etc.
Free sessions at Meenakshi World School Carnival
Along with all this, the Carnival will also have a booth setup for Free Counselling Sessions & Dental Checkups.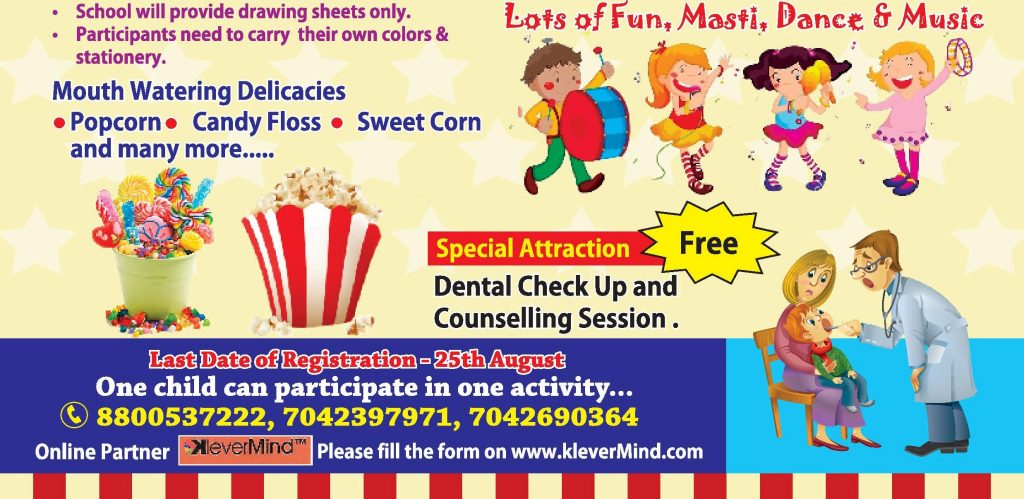 So Parents! All you have to do is participate and let your young ones bring out their talent!
We would love for you to join us and be a part of this day!