School Admissions through KleverMind
School admissions have now been made easy with a new admissions process platform called KleverMind. They are on a mission to ensure school admissions are no more a  nightmare to parents!
[caption id="attachment_92" align="alignnone" width="828"]
KleverMind – Many Schools, One Form[/caption]
Applications for Nursery Admissions fill many parents with horror. The lack of awareness about schools, the laborious application forms and varied fee structures for each school, left parents exasperated.
These were some of the problems faced by KleverMind Co-founders, Sanghamitra and Jajati Pattanayak, parents who needed to find the right school and the right match.
Last year, Sanghamitra and Jajati, both IT professionals with top MNCs, took 20 days to apply to 28 schools for their daughter's admission. The tiring process gave them the idea of KleverMind, which gives parents and schools the comfort of just one form through which school admissions applications can be made to many different schools.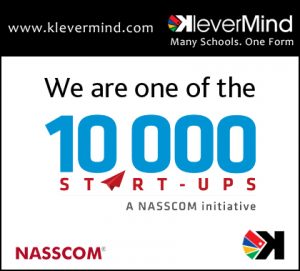 How 3 KleverClicks can help
This powerful idea of 'Many Schools. One Form' is one of NASSCOM's 10000 Startups and 16 most disruptive ideas. By simplifying and automating the nursery school admission process, KleverMind provides parents with ways to find nearby schools by just specifying the area.
There is also one online Master Form to apply to various schools. KleverMind also looked at the issues faced by schools during the admissions process. Schools had to manually sort, shortlist and identify potential students from a large application pool.
In addition, they had to handle many questions, plus deal with a huge volume of parents.  During this chaotic process, schools located away from main streets remained left behind and did not become available as a potential choice.
KleverMind thought ahead by providing listings for schools on their website as well as a mobile school app for parents. With the 3 click process, KleverMind is providing a platform for admissions that is less stressful for parents and schools.